Description
12 pieces

Strength: HB, ideal for writing and sketching
recycled waste paper instead of wood
Wood-free pencils made from old newspaper

Huge amounts of wood are required for the production of colored pencils and pencils. For this purpose, almost 2,000 trees are felled every day for a well-known pen manufacturer alone, the equivalent of an area of a soccer field.

By processing recycled newspapers, we can counteract the deforestation of valuable forest. We give newspaper a second life by simply upcycling it!

Plastic-free packaging
In the EU, 40% of the plastics produced are used for packaging materials. Plastic packaging thus accounts for the largest share of plastic pollution on our planet.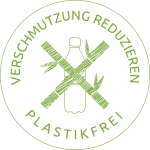 You might also like this: