Description
Wood-free toilet paper in plastic-free packaging. 8 rolls of 200 sheets each. 3-ply and cuddly soft. Natural, unbleached and also suitable for sensitive skin.

Wood-free, plastic-free, climate neutral & FSC100%.
Naturally soft and unbleached
Our bamboo toilet paper is extremely soft and is also suitable for very sensitive skin. The natural and tear-resistant bamboo fibers and our manufacturing process ensure a smooth surface that does not irritate your skin.
cuddly soft
100% bamboo from well-managed forests
3-lagig & reißfest
Bamboo paper packaging
Unbleached
Vegan (no animal glues or similar)
The pandoo toilet paper
You get our toilet paper in packs of 8 rolls each. The packaging is of course plastic-free and also made of bamboo paper.
8 Rolls, each 200 Blatt, 3-layer
Wood-free toilet paper
Almost every second industrially felled tree worldwide is processed into paper, including for hygiene paper such as handkerchiefs and toilet paper.
Compared to wood, bamboo grows much faster and can be harvested after 3-5 years. As a result, more paper can be produced on the same area and important forests can be preserved.
flush trees down the toilet? No thank you. pandoo toilet paper is the perfect alternative to take a stand against deforestation and plastic pollution.  
Plastic-free packaging
Toilet paper is almost always packed in plastic, sometimes even in individual rolls. As a daily consumable, this creates incredible amounts of plastic waste.
In the EU, 40% of the plastics produced are used for packaging materials. Plastic packaging thus accounts for the largest share of plastic pollution on our planet.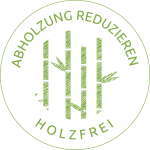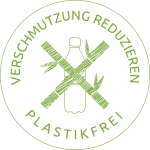 You might also like this: